1-Module INTACT™ Filling
2-Module INTACT™ Filler
What is the Intact™ Filling Technology?
The Intact™ Sterile Filling Technology is a novel, patented technology for sterile filling of various liquid products into pre-sterilized sterile containers and dispensing devices.
Our proprietary filling allows absolutely zero contact between product and environment from within formulation tank to dispensing.
This technology overcomes five issues in traditional aseptic filling of open containers:
costly investment in clean/aseptic rooms and isolators
extensive maintenance of clean/aseptic rooms and isolators
the need for high-speed assembly of a cap on a container inside an aseptic isolator
time consuming and laborious cleaning of splashes
hazardous cross-contamination inside and outside the filler
The Intact™ system is designed for the pharmaceutical, food & beverage, cosmetic, and manufacturing industries for laboratories, pilot-plant, and full-scale commercial settings.
Portable versions of the Intact™ system have been designed to fulfill the sterile filling needs of hospitals, laboratories and emergency operations. The system is suitable for aqueous and viscous liquids, including water, juices, syrups, milk, infant formula, creams, concentrates, gels, and suspensions.
How does it work?
Closing container:
The container/device to be filled is fitted with a proprietary re-sealable stopper.
Sterilization:
The closed container is sterilized using various techniques, including gamma irradiation, e-beam or gas sterilization.
Needle filling:
1st station: stopper aseptization by UV pulse light
2nd station: needle filling through the stopper with peristaltic pump
3rd station: re-sealing of the less than 1 micron wide pin hole left on the self closing septum after needle withdrawal. The resealing of the filling port is monitored in-line on 100% of the containers using either infra-red laser sensor or UV reflection sensor.
Containers are always functionally closed, eliminating risks for contamination. As a result, containers have trillion times less exposure than in traditional aseptic filling of open containers. (Much larger surface exposure combined with significantly larger time of exposure makes open container aseptic filling very vulnerable to contamination, requiring multiple controls and isolators.)
In fact, since it remains always closed once sterilized, the container becomes the mobile isolator for itself. At no time is the interior of the device exposed to external environment, thereby completely preventing contamination of the formulation and negating the use of expensive isolators and money of the GMPs.
As stated by Regulatory Agencies: "with the closed container, MedInstill has engineered the compliance".
Regulatory Status
The Intact™ Filling of closed vials was first submitted to the Parenteral Drug Association (USA) to certify sterile media fill of 3 successive lots of 10,000 vials filled with media, with zero failure.
Representatives of Regulatory agencies have voiced their support of the Intact™ Filling System and described it as "the paradigm shift in aseptic filling technologies".
Our first licensee, GSK, has obtained approval in Europe for a vaccine in 2011.
Safety
Filling closed containers makes filling of Non Preserved in a Non Controlled Environment safer than best Aseptic Filling of Preserved into open vials within a Controlled Environment
The filler is always dry: no splashing out of a closed vial
The closed containers are the isolators
Engineering compliance for faster validation—
Cost Savings
Very limited downtime
Very low maintenance (only 2 moving parts)
No controlled environment
Lower

CAPEX

(fraction of an Aseptic Line)
Lower operational costs & no need for Aseptic specialized personnel
Filler Delivered in 2-6 months from Purchase Order instead of the typical 18-24 months, subject to volume of production requested
Convenience
FDA

audits are much simpler
No need for multiple time consuming Media Fills between runs
Disposable sterile connector, tubing and filling needle set, removing need for Steam In Place (

SIP

)
Only limited gowning required (hat, mask, white coat)
No splashing, filler is always dry, no cleaning necessary
No

CIP

/

SIP

cycles necessary
No By-Product formation
Versatile
As many stations and filling heads as necessary to achieve desired level of production
Just-in-time production, no wasted product
A few minutes only are needed to change the filling needles with our sterile connectors
CAPEX
100%
10%-25% of Aseptic
Exposure
OPEN containers and assembly machine in aseptic area
CLOSED containers = trillion times less exposure
Need to re-sterilize machine after stoppage
Yes
No
Downtime
Major (35%)
Minor (<5%)
Environment
Clean/Aseptic Rooms & Isolators
Controlled unclassified environment
Filling Flexibility
Individual Batching
In-line multiple-dose blending
Just-in-time size changeovers
Container Sterilization
Off-site
In-line (under development)
Filler Complexity
Many moving parts
Container assembly in aseptic area
High maintenance
Only 2 moving parts
No assembly in filling zone
Low maintenance
Zero assembly in the filler
Seal Inspection
QC, sampling, Quarantine
100% in-line
The Intact™ Modular Filler (
IMF

)

The IMF is a fully integrated, automatic filling machine performing all filling activities, including container loading, positioning, filling, and container unloading. The IMF can fill glass or plastic containers of various shapes and sizes (bottles, vials, pouches) with high precision and consistency.

The IMF is modular with interchangeable modules for various filling process functions. As a result, the filler:
is easily installed and maintained with minimum change parts
dramatically simplify product change over and cleaning validations
is adaptable to various filling process requirements for different customers
is capable of filling any of the Intact™ devices without any alterations
is scalable for desired output
has no rotating parts and only two moving parts:
The carrier, which runs through the filler on a conveyor (horizontal line)
The needles, which move up and down to pierce the port on the container (vertical line)
IMF

is Compliant.

The preservatives typically added to products to destroy potential contaminating germs, are unnecessary because of the physical barrier which prevents contamination. This means higher patient/customer safety level, and compliance has been engineered thanks to container design, filling process and dispensing technology. Representatives of Regulatory agencies have voiced their support of the Intact™ Filling System and described it as "the paradigm shift in aseptic filling technologies".
IMF

is compact.

A typical IMF has a foot print of 75 sqft and requires a room of 150 square feet.

IMF is a complete turnkey system: with a single electrical connection, the IMF is a fully integrated filler without the need of vaporized hydrogen peroxide (VHP), air compressor or complex and costly isolators.
IMF

has a significant filling capacity.

An IMF with 4 heads per station has a filling output of up to 15 million containers a year, using a three shift operation, while filling 100 ml per container.
Advantages of the Intact™ Modular Filler
Simple design.
Unlike in conventional fillers, there is no assembly of caps, no cap tightening and no rotating parts. As a result, the IMF is simpler to operate and more reliable, which makes the IMF superior to conventional fillers.
Sterile fill.
Containers are always functionally closed, eliminating risks for contamination: the IMF leads to trillion times less exposure than traditional aseptic filling of open containers.
Ability to fill in non-sterile environment.
Sterile filling successfully documented in a log3 bio-burden environment (equivalent to a sneeze or a dirty pig stable). As a result, the filler doesn't need to be enclosed in a "clean" room.
Preservative free formulations.
Since the container is always closed, the formulations are not only filled sterile but they also remain sterile from first to last dose, removing the need of preservatives. This means higher patient/customer safety level, and compliance has been engineered thanks to both container design and filling process.
Foamy formulations.
Since the container is always closed eliminating any splash incidence, the IMF is particularly suited to fill formulations which tend to foam.
Blending.
IMF can also blend products during the filling process. Since the proprietary elastomeric re-sealable stopper can be pierced safely several times, the IMF can independently fill several components into devices, allowing different sensitive components of a formulation to be mixed in the devices during the filling process.
Just In Time Filling.
At the push of a button, the formulations stored in different tanks can be programmed-filled at several filling stations, making the IMF a versatile and multi-purpose filler.
Simplified regulatory compliance.
Regulatory compliance has been engineered into the filling machine. Since the containers are always closed, the product lines and filling needles are single run disposables, and there is no possibility of splash and leaks during filling, the filler remains always clean, eliminating the need for extensive cleaning and sterilization, and media fills at each product change over thus dramatically reducing line down time and costs.
Custom designed.
Thanks to its simple, modular design, the IMF can be custom-designed as per customer specifications.
Low capital investment.
Since there is no need to create a clean and controlled environment around the IMF, the capital investment to house the filler is dramatically less than the one required for an Aseptic plant. Also, thanks to its simplicity and modular design, the IMF cost is significantly less than today's aseptic fillers.
Low operating costs.
The operating costs to run the IMF (less procedures, less cleaning steps, less operators, less monitoring, less splashes, less down time, faster installation) are significantly reduced compared to traditional aseptic filling of open containers. The number of operators is also reduced and there is no need for a team of aseptic specialists to maintain and monitor the filling suite. Moreover, a single operator can run several machines at the same time.
Applicable to Hospital and Laboratory operations.
In its smaller form, the IMF makes compounding in hospitals and pharmacies significantly safer. The equipment can also be used in laboratories and development facilities for sterile formulation development, master seed preparations, and aseptic biological sample aliquoting. With a single electrical connection, no vaporized hydrogen peroxide (VHP), no air compressor, no complex and costly isolators, the IMF is ideal for such applications.
Applicable in emerging countries.
The IMF is an elegant and efficient filling solution for emerging countries, which do not typically have available aseptic clean rooms nor trained operators for aseptic procedures. The IMF gives access to safer medicine and healthy liquid food to their growing emerging world populations. By implementing the IMF, emerging countries can advance from "clean" filling to sterile filling, by-passing the need for expensive and inefficient aseptic filling available today in developed countries.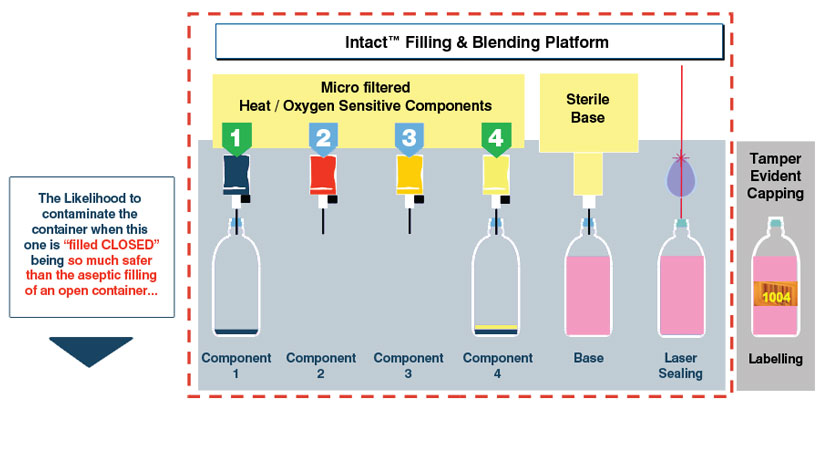 Ingredients composing a product or a formulation can have different reactions or sensitivities to a process. Rather than batching them all in the same tank and submitting them to the exact same conditions, Intact™ Blending offers the possibility to fill each ingredient separately, with its own independent process. Indeed, the properties of the Intact™ closed container's septum allow for multiple piercing, even in the exact same spot allowing the blending to occur directly in the container.
Intact™ Blending main advantages:
Independent processing and filling for enhanced formulations. Critical ingredients' processing is optimized: 1 critical ingredient per filling needle, such as Vitamins, Aromatic ingredients, etc.
Faster cycle time: the same container can be filled successively by different needles
Allows for Just in Time Production with less byproducts